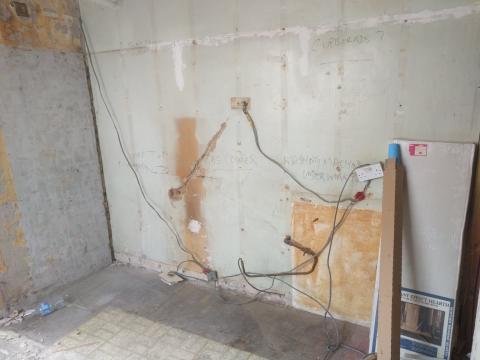 House rewires can be a very daunting process for a lot of people, and is not unreasonable for many to worry if the person they will hire will do the job properly and without living a post apocalyptic scene behind them.
Something I have seen quite a few times is builders to do all the electrical works while the client thinks an actual electrician is hired by them. This common practice results to a considerable amount of electrical installations done in very poor standards and with hazards. An example is a rental property in Gillingham being without an incoming earth for a couple of years, for this issue to be discovered when the tenants reported electric shocks from the plumping.
Even ourselves as professionals we have seen botched jobs from people who aren't even electricians leaving home owners with dangerous electrics, rewires that weren't necessary and rewires that although got paid as ones never really happened.
Bellow is a compacted list of how we do the rewires and this way you will able to get an idea on what's going on during one.
The very first thing we do is to decommission the existing installation. We completely cut the electrics in the house, install a temporary power supply and remove all the old electrical accessories. Per client's request we may install 110V temporary lights. The latter is an additional service and is more common in larger projects and not something we often do in smaller, single house, rewires.
Following this we will start installing the new electrics on the positions we have agreed with the client. The new electrical points won't necessary be the same with the old ones. This stage happens in a couple of different ways, by chasing the walls and bury the cables inside, surface mounted where the cables are enclosed in trunking or a combination of those two. This is what we call 1st fix.
In most void properties, we will allow for the client's plasterer to make good of all the chases before we move back in for the 2nd fix.
At the 2nd fix we will install all the new electrical accessories such as sockets and lights, install a new RBCO loaded consumer unit with surge protection, do all the necessary tests to ensure everything is safe before energizing your new electrics. At the very end and with no outstanding payments we will issue an Electrical Installation Certificate (EIC) and notify the local authorities about the works.
We are also required by law to install mains powered interlinked smoke and heat detectors.
At the end of every day we clean up the property.
How much a house rewire costs in Kent?
This is something that a lot of people asking when they call us. Most times than not there is no straight forward answer to this. There are a number of variables that will determine the final price such as the number of sockets and lights, the size of your kitchen etc. As a guide though, bellow is a 'from' price guide for most terrace houses or semis*
1 bedroom house £3066 + VAT
2 bedroom house £3581 + VAT
3 bedroom house £4097 + VAT
4 bedroom house £4613 + VAT
*It's been assumed a living/dining room and one bathroom over two levels. This guide doesn't cover HMOs and student lets as they have additional requirements who increase the cost.