Below you will find a list of the questions I get asked on a regular basis.
What sort of equipment needs to be PAT tested?
Ultimately, if it has a plug it needs to be tested, this includes extension leads
How often should I get my equipment PAT tested?
There is no set time for doing this. The IET recommends a 'no more than' period depending the type of the premises. See the table below for some examples.
It should be noted that if there is a case of a dispute, the IETs recommendations will be taken very seriously by a court.
Very often local authorities will also have their own rules on how often this should happen, e.g. no more than 12 months in HMOs.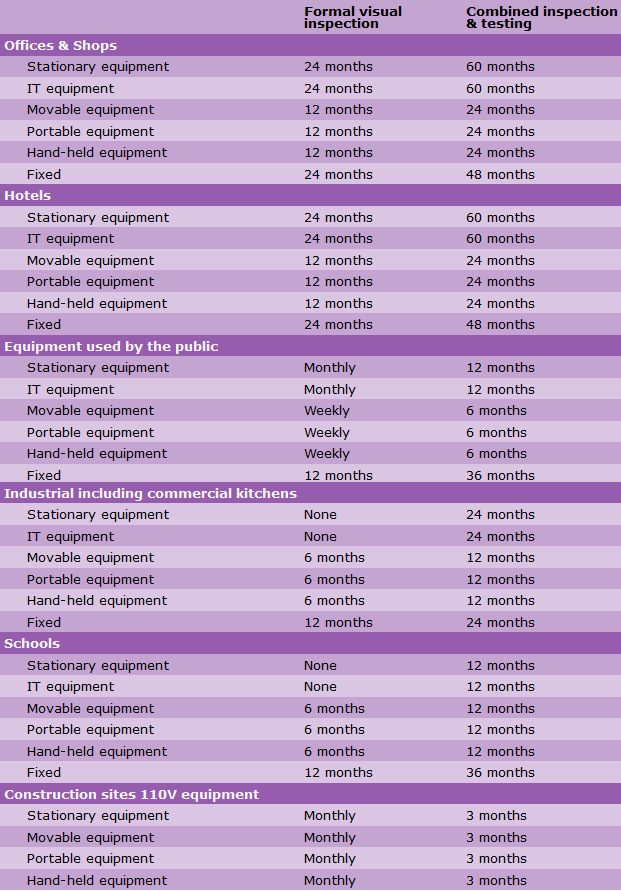 Will it affect my insurance policy if I don't have a PAT test?
It's very possible. You will have to check this with your insurance company.
Is PAT testing a legal requirement?
The legislation of specific relevance to electrical maintenance is the Health & Safety at Work Act 1974, the Management of Health & Safety at Work Regulations 1999, the Electricity at Work Regulations 1989, the Workplace (Health, Safety and Welfare) Regulations 1992 and the Provision and Use of Work Equipment Regulations 1998.
The Health & Safety at Work Act 1974 puts the duty of care upon both the employer and the employee to ensure the safety of all persons using the work premises. This includes the self employed.
The Management of Health & Safety at Work Regulations 1999 states:
"Every employer shall make suitable and sufficient assessment of:
(a) the risks to the health and safety of his employees to which they are exposed whilst at work, and
(b) the risks to ensure the health and safety of persons not in his employment arising out of or in connection with the conduct by him or his undertaking."
The Provision and Use of Work Equipment Regulations 1998 states:
"Every employer shall ensure that work equipment is maintained in an efficient state, in efficient working order and in good repair."
The PUWER 1998 covers most risks that can result from using work equipment. With respect to risks from electricity, compliance with the Electricity at Work Regulations 1989 is likely to achieve compliance with the PUWER 1998.
PUWER 1998 only applies to work equipment used by workers at work. This includes all work equipment (fixed, transportable or portable) connected to a source of electrical energy. PUWER does not apply to fixed installations in a building. The electrical safety of these installations is dealt with only by the Electricity at Work Regulations.
The Electricity at Work Regulations 1989 states:
"All systems shall at all times be of such construction as to prevent, so far as reasonably practicable, such danger."
"As may be necessary to prevent danger, all systems shall be maintained so as to prevent, so far as reasonably practicable, such danger."
"'System' means an electrical system in which all the electrical equipment is, or may be, electrically connected to a common source of electrical energy and includes such source and such equipment"
"'Electrical Equipment' includes anything used, intended to be used or installed for use, to generate, provide, transmit, transform, rectify, convert, conduct, distribute, control, store, measure or use electrical energy."
Scope of the legislation
It is clear that the combination of the HSW Act 1974, the PUWER 1998 and the EAW Regulations 1989 apply to all electrical equipment used in, or associated with, places of work. The scope extends from distribution systems down to the smallest piece of electrical equipment.
It is clear that there is a requirement to inspect and test all types of electrical equipment in all work situations.
Can the PAT Test take place out of hours?
Yes, if the test cannot take place during our normal working hours (Mon-Fri 9am-5pm) we can arrange an out of hours inspection with additional charges.
What qualifications do you need to fit these heaters?
We are fully qualified and insured electricians and all of our installations come with the required electrical installation certification.
What 'Trust' schemes do you belong to?
We are members of and have been verified by Medway Fair Trader scheme, NICEIC and Government endorsed Trustmark.
We offer a personal guarantee on all installations. If you are not happy we will do our upmost to resolve any issues as quickly as possible.
Do the heaters come with a warranty?
Aeroflow come with a 30 year warranty on the clay bricks and steel casing.
Do you remove the old heating?
We can remove old storage heaters, panel heaters, gas and oil systems. This can be assessed at your free survey.
How long do they take to fit?
Our skilled team will complete most installations in a day.
Do they need maintenance?
No, this is one of the main advantages over gas and oil systems.
How much do they cost to run?
In a well-insulated property our 2kw heater will cost only 6.5p per hour to run a very cold day. So YES, you could potentially enjoy GREAT savings.
Why better than storage heaters?
Our heaters are much easier to control whether from the thermostat or the phone APP. Our heaters look like traditional radiators, If you have storage heaters you will be aware they are big and ugly. Our heaters heat when you need it so you don't need to whip out a fan heater when your storage heater has run out of heat at 9pm. Storage heaters charge the overnight and then release the heat the next day. When the weather is changeable, which it often is in the UK, you may not need that heat. However, you have already paid for it.