Have you been told your fusebox is dangerous by an 'electrician' in Medway?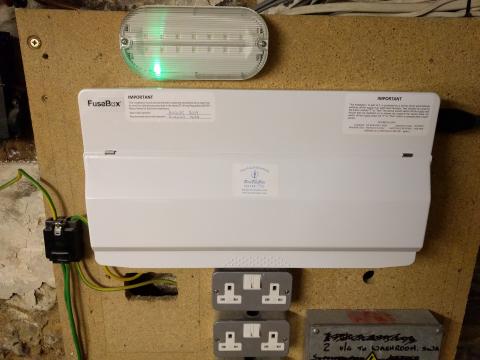 I have been hearing several reports from my customers in Medway and Gravesend recently that maintenance companies and kitchen fitters are telling them that their fusebox is dangerous and needs replacing. I have seen cases where a sticker has been placed on the fuse-board saying that it is unsafe to use.
Thankfully, not all my clients went ahead with the work and requested a second opinion. It is just as well as they did, as they didn't waste money on needless work.
I think we are all familiar with companies such as these whose engineers operate on commission and therefore it is in their own interests to create work for themselves.
An old fusebox does NOT mean it is dangerous
Simply looking at an older fusebox and declaring it as dangerous is very inaccurate. Just because a fusebox looks old, doesn't automatically deem it as dangerous! A series of tests by a qualified and registered electrician in Medway will establish if the fuse-board is dangerous or not.
My tip is that if you are faced with this kind of scenario in your home is to insist on seeing the results of the testing. I am told by my customers that these engineers are simply looking at the board and are not carrying out any form of work to arrive at the conclusion the fusebox is dangerous.
Check the engineer is qualified
Again, as many of us know, these engineers work on all manner of home repairs. Of course, it is important as with any other trades person who works in your home, to check that they are qualified electricians.
In the instance above, simply looking at a fusebox and declaring it unsafe is not the working practice of a qualified electrician, so make sure you check their qualifications before any work is carried out.
Get a second opinion
Never book the work to be carried out on the day. Companies like the ones we're talking about can often make home owners feel under pressure to book believing that their electrics are so dangerous that the job simply cannot wait.
This is wrong. Even if your fusebox does need replacing, it can wait long enough to get a second opinion, and of course a second quote. In fact, I recommend obtaining 3 quotes before proceeding with any work.
Fusebox fact
It is a fact that any electrician will advice that old fuse-boards should be upgraded, and it is true that modern replacements – known as consumer units are much safer. However in many cases, an old fusebox will still be fit for purpose.
When a fusebox upgrade is a good idea?
There will be a time when an upgrade of your fusebox will be necessary. You may have to upgrade if you are planning the following types of home improvements:
Re-wiring of your home

Substantial alternations to electrical circuits

Your old fusebox fails testing
Remember that all the above electrical works must be carried out by your qualified and registered electrician in Medway.
Do not part with your money unnecessarily
Unfortunately I have visited clients homes when this work has already been carried out, and in many cases they feel they were under pressure to have the work carried out through fear or untrue 'scare stories'.
Do not be bullied or conned into parting with your money unnecessarily.