Have a Safe Christmas in Medway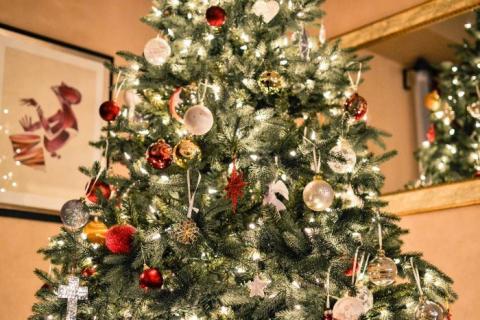 He sees your overloaded sockets, and the Christmas roast you left alone in the oven. No, it's not Santa, it's George your Local Medway Electrician!
December is already here and everyone's getting ready for Christmas. Especially little ones are very excited. My son talks about the presents he wants for the last two months!
This festive period is also the time that electrical hazards going rocket sky.
To keep you safer this year, and the years to come, I put together a small list of hints and tips to be aware as you are getting ready to welcome Santa and the new year.
Christmas Tree
If you are getting a 'real' Christmas tree then make sure you pour about a litre of water a day to make sure it doesn't dry out. Dry wood and pine needles are far more flammable than fresh ones. 
Talking about flammable objects, I know you mean well but DO NOT use hair spray to keep the pine needles from falling but hair spray is highly flammable.
Also, keep it away from electric and any other kind of fires.
Sockets
I know that want to make your home look pretty with a lot of lights but make sure you don't overload your socket.
Use only one extension lead per socket and don't plug an extension on an extension. It's also a trip hazard.
Use a multi-way extension bar instead of extension cube which put a lot more strain on your sockets and very often aren't fused and this way can't protect you in a case of an overload.
Christmas Lights
As you reaching into your loft to get your existing Christmas lights or you are buying new ones make sure that:
The cable it's not damaged and all the light bulbs are in place.
If any of the light bulbs is damaged, replace it only with ones of the same type (usually supplied).
If the wiring or the plug are damaged do not try to repair them, just get a new set.
Keep them away from other flammable decorations and other objects.
ALWAYS switch them off before you go to bed or leave from home. I know they look nice but better safe than sorry.
If you are planning to use them outside then check the packaging that they are rated for the outdoors.
When you light them spread them out and don't leave in the box or tangled together.
Use only LED lights as they are far safer and energy efficient.
Cooking
Make sure your oven is regularly cleaned as grease residues are highly flammable.
Never leave your Christmas roast unattended. Food is the first that gets ignited if something goes wrong.
Make sure you have operational heat detector fitted in you kitchen.
I wish you a very Happy (and safe) Christmas and a Happy New Year.